Yachts for Sale
Our luxury yachts for sale are built out of top quality aluminum alloy to go through the endless sea. Owning a yacht with such aluminum alloy means that this hull will last for decades. It is quite strong and ready to fight the blue waters until your curiosity is completely satisfied. You might prefer to buy the epoxy laminated mahogany. The epoxy is a great material used for laminating the wood which is used as a hull material for luxury yacht building and industry. Our yachts are available and ready upon request via this website. Hundreds of yachts for sale are in our portfolio ready to be delivered to our clients upon request. Of course, you will meet different designs and sizes that suit all budgets and appeal to all tastes. In our portfolio, you will see that every page has twelve yachts inside. Every yacht picture forms a link. Clicking on that link means that you will get fully detailed information about that yacht.
Yachts for Sale
When clicking on the photo of the yacht you like, the link will take you immediately to the main page of the yacht where you will know about the prices of yacht or luxury yachts for sale. You will know also about the date of their building. You will see photos of the bow and stern of the yacht. You will go inside through these photos to know about the interior and furnishing. You will go deep into the cabins that each has one en suite, then move to the galley and other amenities on board.
When checking our luxury yachts for sale portfolio, you must be interested in getting familiar with some technical information like the length of the yacht, the beam, the maximum draft, and the materials out of which the hull is manufactured. You can also familiarize yourself with the location of the yacht and her flag and her guest capacity. This means that you need to know more and more about your yachts for sale and understand every single detail especially when this is the first time you experience being a yacht owner.
When decisive about which one of our yachts for sale you decided on, then call us up or try to reach us via email to have more information from our captains who have been serving our clients and making things easier for them. Our clients all over the world keep in touch with us even after they buy their yacht, so that they benefit from our expertise in this field in whatever thing they encounter in their cruising and their new marine life. In fact, we are working the whole year serving our clients in the blue waters industry and helping our clients in everything starting from the simplest issues related to life on the board of the yacht till her maintenance, and her mooring and storage in winter. The winter is the preparation period for luxury yachts for sale in which you make a kind of overhaul for your yacht, so that she is ready for the coming season.
Dealing with our brokerage house means that your interests are completely protected by our company. In general, it is not that advisable for yachts for sale clients to deal directly with the head owners of the yacht whom you do not understand their language and whom you do not know and whom you have never met before and most importantly whom you cannot trust or make sure that they are real or fake sellers as it happened in some parts of the world.
A lot of people were deceived by such bargains concerning yachts for sale ones because some customers have bought something that they have never seen before!! In other words, the buyer has seen something but has bought something else. With our company which has been here for ages, and with the experience of our captains whose life has been completely devoted to the marine life and yachts for sale industry, you can be sure that your interested are highly protected and your rights are taken on your part as frank and clear as the sun is.
A kind of preliminary test for yachts for sale is being done before this yacht is uploaded to our portfolio which means that being truthful with our clients is our concern every time because we respect our profession and keep our words with our customers who have trusted us for years. In this occasion, we would like to pay our clients' attention to the fact they can be cheated by some fraudulent yacht owners!
You can pay us a visit to Turkey in order to take you in small trip to the marina to see your yacht in person. In luxury yachts for sale department, we ready at any time to let you be accompanied with our agents to the marina to see your yacht in person, so that you can be sure that this is the same yacht that you have seen and this is the very yacht that you loved!
Yachts for Sale
Our company has her agents in any country that cares about the marine tourism and industry. This means that wherever you are, we can help you locate the suitable yacht that best suits your needs from our yachts for sale international brokerage house that is spread throughout the globe. Luxury yachts for sale is our big department that we are proud of since we have put the experience of thirty years in your hands to help you get what you need.
If you are considering having a crew for your new yacht, our luxury yachts for sale agents are able to provide you with professional crews for any kind of luxury yacht since we have an independent department in our company for the crew employment. If you have any inquiry concerning the crew, you can call us via telephone or try to reach us via our own email when puzzled or baffled!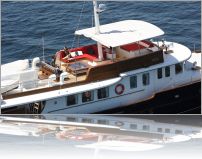 Yachts for Sale
Gulet for Sale
Motor Yacht for Sale
yachts