Yacht For Sale
Yacht For Sale
The difference in a yacht for sale prices refers to the difference in quality and the cost of materials for yacht building which makes the major difference as well as the craftsmanship. You have the freedom to choose whatever is convenient to your budget and quality expectations.
Our yachts for sale agents can help you with their long expertise in the field of the yacht, as you always need an independent surveyors opinion in order to make sure you are investing in the right boat otherwise your hard-earned cash can bring you to trouble instead of joy and happiness as you should be expecting. Our yacht for sale in Turkey. agents are a group of professional captains who have been working for many years in the yachting industry.
We have included Turkish-built quality gulets and motor yachts in our sales portfolio, flush deck Fethiye gulets are much more spacious and are built with epoxy laminated wooden (west system epoxy) that can be build up to 10 cabins which are mostly preferred by cabin charter agencies. Turkish Gulets can be built up to 45 meters in length and they offer much more cabin space, deck space, sunbathing, and awning space as well as freshwater capacity and provide storage space in order to carry out weekly yacht charter holidays in Turkish coastal waters and the neighboring Greek islands.
Meanwhile, these luxury gulets are being built with twin-screw engines and twin power generators, twin water makers not to mention fully air-conditioned comfortable cabins, and state of the art luxury amenities which the Turkish Yacht building industry grow into the standard high-quality yacht.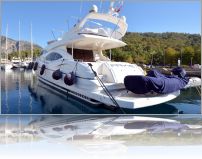 yacht for sale (2)
Yacht For Sale